Porcelain Veneers Near You
If you are looking for an effective and simple way to enhance your smile, then our team at City Square Dental Center may have the perfect solution for you. With porcelain veneers in Vancouver, our dentist can correct a wide range of minor cosmetic imperfections in your smile. Read on to learn how you can benefit from porcelain veneers near you.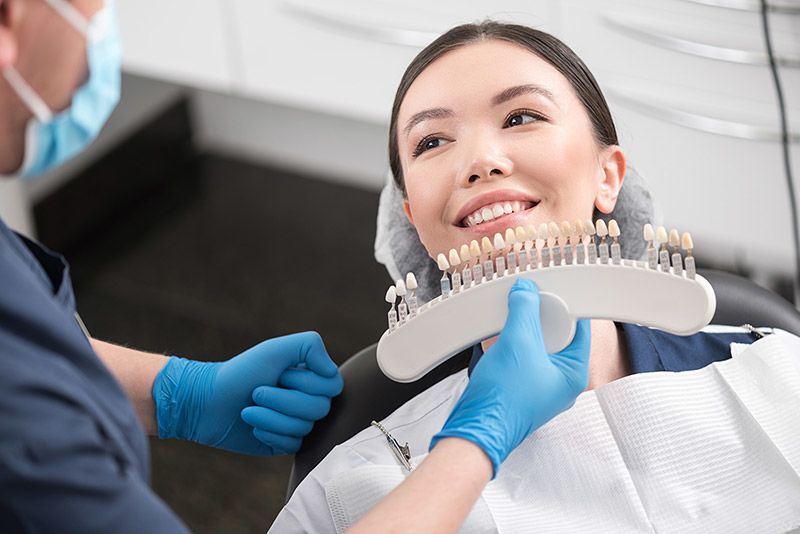 What Are Porcelain Veneers?
Veneers are thin coverings made of porcelain that are custom-designed to fit onto the front surface of your teeth and boost the appearance of your smile. These are a natural-looking, long-lasting, and durable solution to minor flaws in your smile.
The porcelain material that veneers are made of mimics the translucent appearance of natural teeth, ensuring that your smile looks natural and stunning. Additionally, our dentist in Vancouver can match the color of your veneers to the shade of your surrounding natural teeth, so they blend in perfectly with your smile.
What Imperfections Can Be Corrected with Porcelain Veneers?
Porcelain veneers are versatile and can correct many imperfections, such as:
Crooked teeth
Worn teeth
Gapped teeth
Cracked or chipped teeth
Stained teeth
If you are struggling with one or more of the above issues, then you may be a good candidate for porcelain veneers in Vancouver.
Who is Eligible for Porcelain Veneers?
If you would like to enhance your smile with porcelain veneers, you are likely a good candidate for the procedure. Most of the time, porcelain veneers are a good choice for those who:
Have healthy gums and teeth
Practice excellent oral hygiene
Have healthy tooth enamel
Do not grind or clench their teeth
If you have any gum disease or tooth decay, you can still get porcelain veneers, but you will need to treat these issues first.
Interested in Porcelain Veneers Near You?
If you would like to learn more about porcelain veneers, please do not hesitate to contact our team of dental professionals at City Square Dental Center. We are proud to offer our patients porcelain veneers in Vancouver.